Antibiotice Company awarded at ANEIR Gala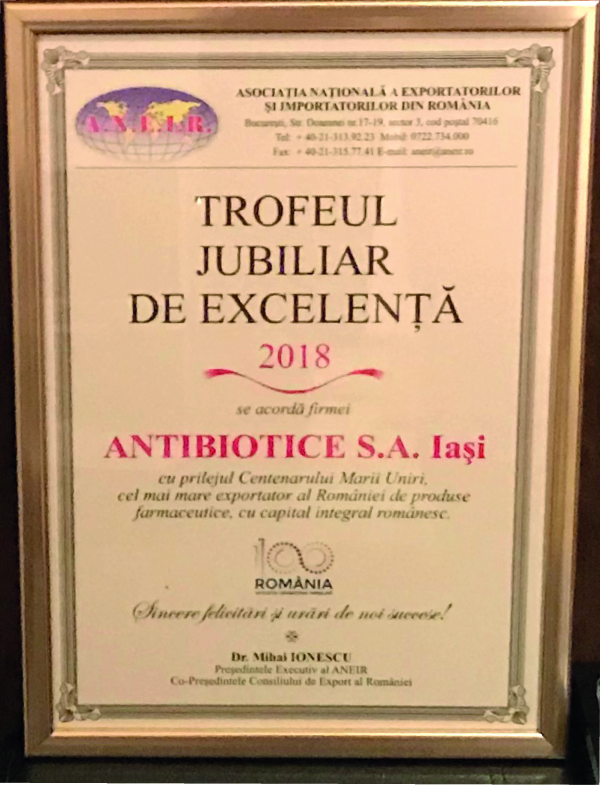 Antibiotice Pharmaceutical Company was awarded by the National Association of Exporters and Importers in Romania (ANEIR) with the Jubilee Trophy of Excellence, within the gala hosted on 20 December 2018 by the National Bank of Romania. The event benefited from the presence of the NBR Governor, Mugur Isarescu, ANEIR leaders and representatives of representative Romanian export companies.
When awarding the prizes, criteria such as the position of the Top 1000 Exporters in 2018 of the National Institute of Statistics, taking into account the position held in the similar Top 2017, the rankings in the 22 previous Gale, the quantitative and qualitative performance the Romanian exporters, the penetration into new markets, new exported products, the expansion of investments, the increase of the efficiency / profit, etc.
Constantly present on the list of distinguished companies of ANEIR, Antibiotice Iasi has focused its development policy on international markets to intensify trade relations, develop long-term strategic partnerships, and open new representations in territories of interest.
"We are enjoying this new recognition of the performances registered by a Romanian company on the international market. In the centenary year, we want Romanian values ​​to be reconsidered and encouraged. The opening of the new Antibiotic representation in Ukraine along with those in Vietnam, the Republic of Moldova and Serbia, the strengthening of the leading position in the world production of Nistatine and the increase of the external turnover to 38% of the total sales are as many arguments for the success of the business ours and the fact that Romania can claim in the world and through the production of quality medicines ", said Ioan Nani, General Manager, Antibiotice SA.
Antibiotice products reach today in more than 70 countries, with major destinations being Asia, North America and Europe.
See all news ▸