SUMMER SUMMER SCHOOL  the 10th edition
in the fields of research, development and pharmaceutical formulation, quality assurance and control, production, medical and pharmacovigilance
THE SUMMER SCHOOL a + aims to offer future specialists the opportunity to complete university education with a number of professional concepts and regulations specific to the pharmaceutical industry, developing skills and gaining useful knowledge for a possible career in the pharmaceutical field.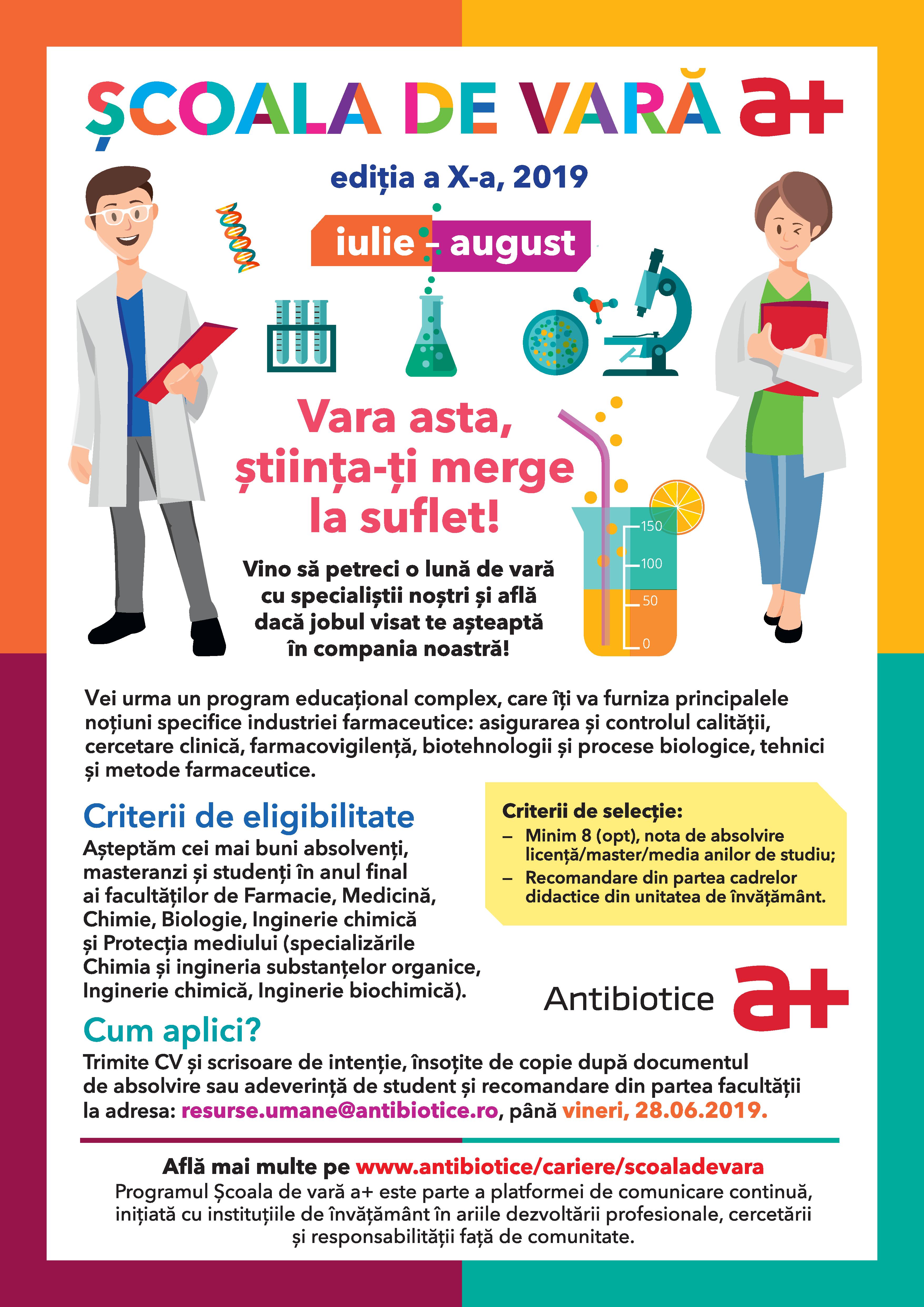 Lecturers, employees of our company, will provide information in the areas of:
– quality assurance and control in the pharmaceutical industry
– Applied pharmaceutical technique and pharmaceutical formulation methods
– methods of analysis, laboratory instruments and techniques
– technology and equipment in the pharmaceutical industry
– pharmacovigilance
– clinical research for the authorization of medicinal products
– drug authorization, legislation and regulatory issues in the pharmaceutical field
– biotechnologies and biological processes in the pharmaceutical industry
WHO?
They can take part in the SUMMER SCHOOLS graduates with license / master and final year students (BA or MA) of the Faculty of Pharmacy, Medicine, Chemistry, Biology, Chemical Engineering and Environmental Protection – Chemistry and Organic Chemistry, Chemical Engineering , Biochemical Engineering.
The selection of the participants will be done by evaluation of the files and / or interviews.
Selection criteria:
– at least 8 (eight) – at least 8 (eight) – in the case of students the average of 8 (eight) years of study is certified on the basis of a certificate issued by the educational institution
– a recommendation from the teaching staff of the school for students of the final years
WHEN?
The Summer School courses + will take place between July and August 2019, Monday to Friday, with an average duration of 3 hours / day and do not involve tuition fees.
WHERE?
Courses and workshops will take place at the company's headquarters in Iaşi, 1, Valea Lupului Street – public transport – route 20.
After completion of the courses, the participants will support a knowledge assessment test that is a pre-selection for future competitions for the purpose of hiring on available positions within the company.
Those interested are kindly requested to send a CV and a letter of intent, accompanied by a copy of the graduation document or student certificate and recommendation from the educational institution for the students of the final years, at: Antibiotice SA, Iasi, Valea Lupului str. . 1, code 707410, Human Resources Department, fax 0232-209633 or e-mail: resurse.umane@antibiotice.ro, until 28.06.2019.
Additional Relationships Phone: 0232 – 209300, 0232-209211