Romania & Frontier Investor Days
The Bucharest Stock Exchange organized on 7-8 September 2023 the Romania & Frontier Investor Days event, dedicated to companies listed on the BVB, but also with the participation of regional companies and the most important institutional investors active in Romania. The BVB partner for this event was the investment firm Wood&Co, one of the most active intermediaries in Romania, but also in the CEE region.
Investor Day@Antibiotice Iasi
On behalf of Antibiotice Iasi, the event was attended by:
Executive Director Economic Unit
Executive Director Marketing and Sales Unit
Executive Director Production and Industrial Strategies Unit
Executive Manager Investment and Strategic Projects Department
Executive Manager International Finished Products Sales Department
ANTIBIOTICE S.A. Iasi informs the investors that the online event entitled "A round table with the Antibiotice Management" attended by investors and analysts will take place on November 25, 2021, at 11:00 a.m.

Registration for the event will be done at the email address: relatiicuinvestitorii@antibiotice.ro until November 23, 16:00, Romania time.
Transcript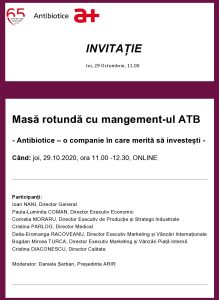 October 31, 2019 – Companies Pitch to Investors
On behalf of Antibiotice the following representatives attended the event: Director of Strategic Planning and Performance Management and Manager-Inventory Financial Control and Risk Analysis Department