Antibiotice launches first non-financial report 2017
"Together for a Better Life" is the concept by which Antibiotice SA launches its first non-financial report for the period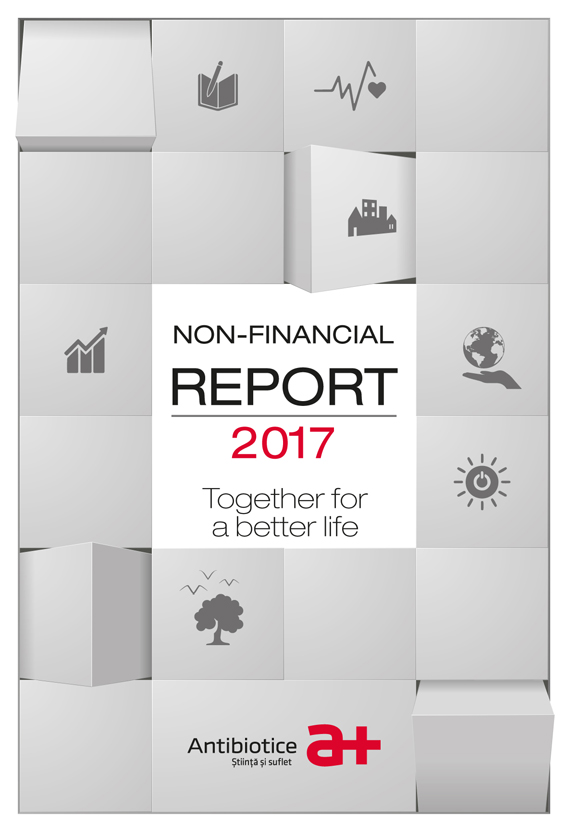 January 1 – December 31, 2017.
The document is a transparency approach and responds to OMFP 1938/2016 including relevant data that contributes to the understanding of non-financial performance in the company's economic, social and environmental fields.
At the same time, Antibiotice SA has also decided to align itself with international practices in the field of sustainability, using the Global Reporting Initiative (GRI) standards, the most recognized reporting standards for international sustainability, as a reference system in this report.
The report contains the most important actions and measures that Antibiotice SA has adopted and implemented in the course of 2017, reflecting the importance of stakeholder satisfaction, employee health and safety, community concern and environmental concern.
The document contains a range of economic, social and environmental impact themes that the company has identified following the process of consulting its most relevant stakeholders to better capture their expectations and needs.
"The preparation of our first non-financial report is an opportunity to expose the guiding principles that are fundamentally anchored to the common good of all who are affected by what we are doing. For us, business sustainability means at the same time ethics and transparency in the relationship with all the stakeholders of the company. We want to continue to develop, to create value in the community, and the impact of our work to be an extremely positive one, "he said. John Nani, General Manager Antibiotice SA
Main results in 2017
ROL 337.6 million, net turnover
ROL 35.3 million, gross profit
74.4 million lei, contributions to the state consolidated budget and local budget
1,420, average number of employees
Zero products on the FDA and EMA alert list
Zero incidents of corruption
45% purchases from suppliers in Romania
54.8% of employees are women
Half of the management team is made up of women
Zero clinical trials of bioequivalence prematurely terminated for the safety of volunteers
60% recycling / recovery rate of the packaging placed on the market
Zero environmental incidents
The management team of Antibiotice SA wishes to thank this way for all the people inside and outside the company who have contributed to this report. Without their substantial contribution, our effort would not have been complete. We thank, at the same time, all of Antibiotice's employees, who are involved in the production of medicines.
View the non-financial report in pdf format by clicking here or on its Cover.
See all news ▸