Antibiotice Iasi, the best company in communication with Investors, in 2022
With a presence of over 25 years on the capital market, the company Antibiotice Iași won first place for "The best company from the perspective of activity in Investor Relations – Main Market – public vote". This award was given on Thursday, November 17, by the Romanian Stock Exchange Investor Relations Association (ARIR), during the ARIR Gala held in Bucharest, for transparency and excellent communication in the relationship with investors, of the capital market players, on during 2022.
"We are happy and at the same time motivated by this honorable award, to perform in communication with investors, to respect our mission to provide information in a transparent and responsible manner, so as to develop relationships based on ethics and trust with current and potential investors", said Ioan Nani, CEO Antibiotice.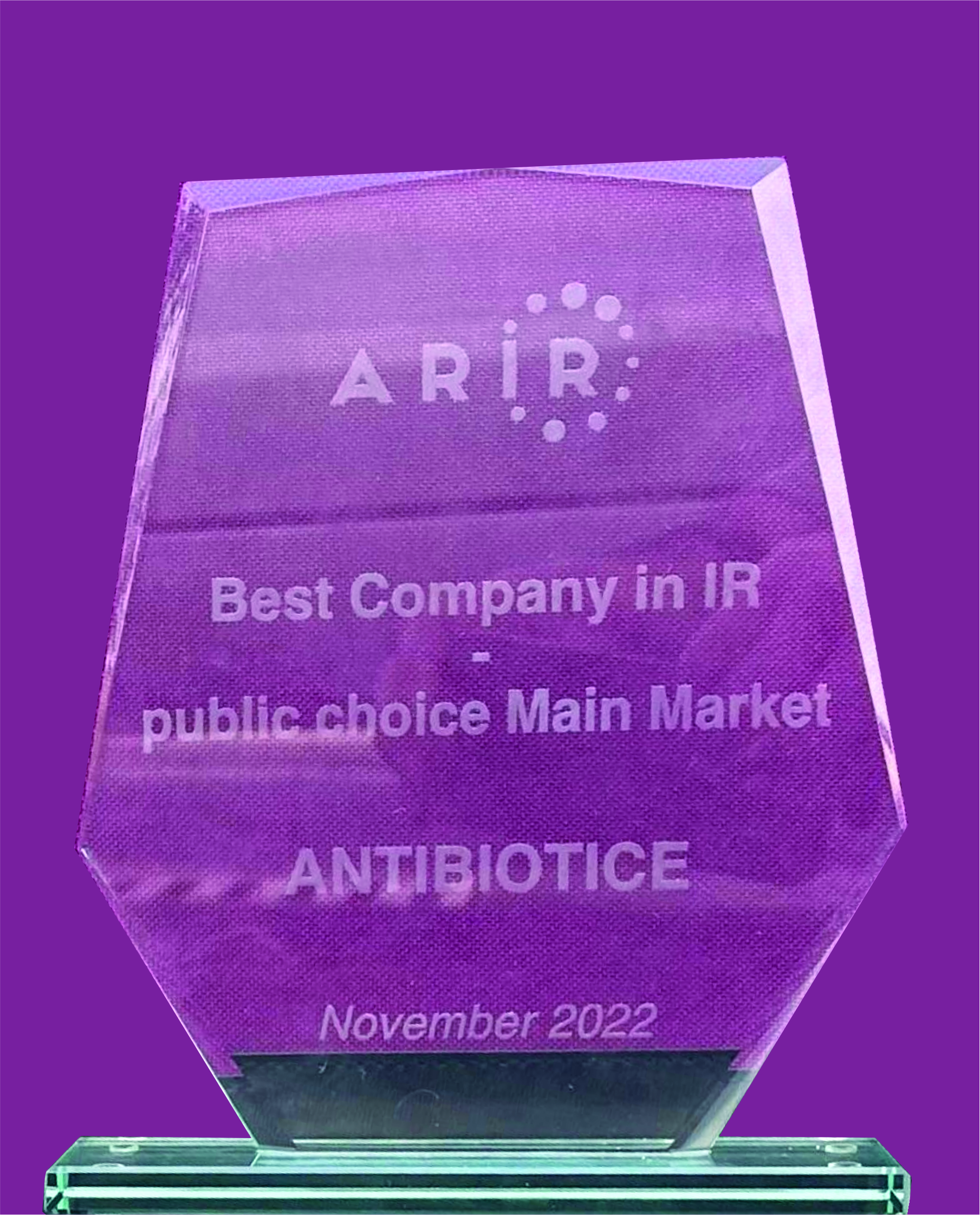 Individual investors appreciated the transparency of the information transmitted about the activity, strategy, development and prospects of the Antibiotics business, the quality of financial reports and the responsible communication from the perspective of the availability and proactivity of the company's team, responsible for the relationship with investors.
This award recognition supports the company's orientation towards sustainable development, by improving ESG (Environmental, Social, Governance) performance, in accordance with the principles of reducing the impact on the environment, improving the impact in society and making the company's activity transparent in relation to stakeholders.
This year's award is the second one obtained at the ARIR Gala, after the one won in 2020 when Antibiotice ranked third in the "Best company in IR- Retail Choise" category.
The affiliation of Antibiotice to ARIR in 2019 was an important moment for the company, coming as a complement to the strategy to improve the relationship with investors and create value for its shareholders.
See all news ▸