Antibiotice company awarded by ANEIR for Nistatin product
For the performance achieved of being for more than 5 years the world leader for Nistatin product (active substance), the company Antibiotice Iași was awarded by the National Association of Exporters and Importers of Romania (ANEIR) with the Jubilee Trophy of Excellence.
The trophy was awarded on Thursday, November 28, 2019, at the Jubilee Gala, organized by ANEIR, on the 30th anniversary of the market economy. Hosted by the National Bank of Romania, the gala enjoyed the presence of the BNR Governor, Mr. Mugur Isarescu, of Mr. Nicolae Văcăroiu, the founder of the Great ANEIR Trophy, as well as of the representatives of the most important companies for the Romanian export.
"The performance achieved for our Nistatin product, both as a world leader and as an international quality standard, is the expression of a strategy aimed at adapting the product to the diverse demands of customers around the world, strengthening long-term strategic partnerships and identifying new opportunities. business, "said Ioan Nani, general director Antibiotice.
Antibiotics capitalizes on a portfolio of over 70 products on foreign markets, with Nistatina having the largest share in the export turnover, the main destinations being North America, Asia, South America and Europe.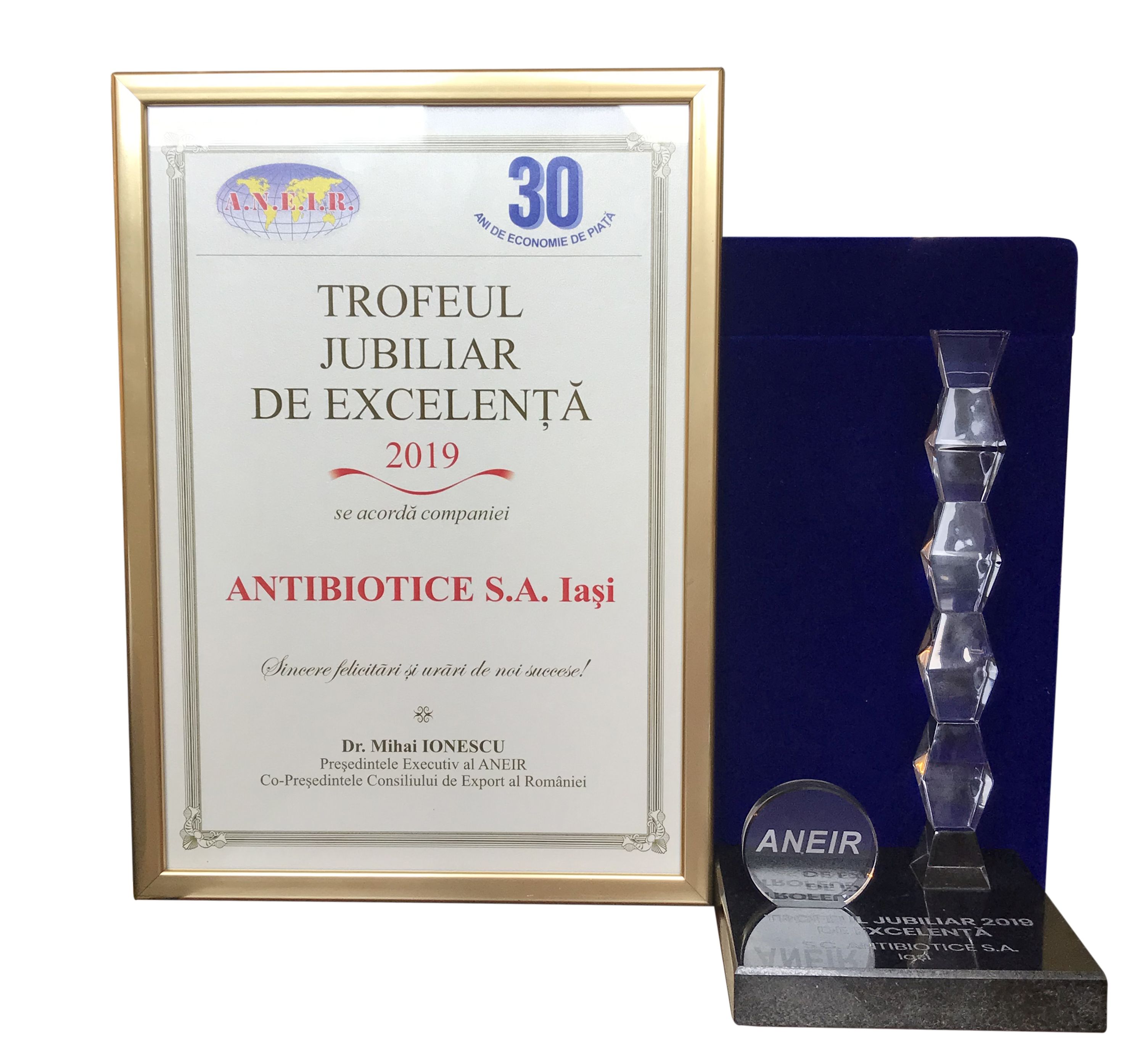 At the same time, the recognition of the results obtained by the Antibiotice company in the activity carried out during the year 2019, has resulted in obtaining honorary prizes, proof of its competitiveness, performance and orientation towards a sustainable development:
Chamber of Commerce and Industry of Romania – National Prize 1st place in the Industry category, very big companies, manufacturing of basic pharmaceutical products.
Chamber of Commerce Iasi:
1st place in the Top of companies from Iasi county, in the Industry category, very big companies, manufacturing of basic pharmaceutical products
Diploma of excellence for ranking first in the top of Iasi companies, 10 years in a row, in the same category
CSR Media, Gala "Romanian CSR Awards 2019":
First place in the category "Internal CSR campaigns" for the project "Donate blood! Put soul for life! (project running for 9 years)
Mention in the category "Supporting employees" for the project "Each of us can save a life" – First aid course for Antibiotic employees.
See all news ▸