100 Most Admired CEOs in Romania
"100 Most Admired CEOs in Romania", the only yearbook of Business MAGAZINE organized in the form
of a ranking, published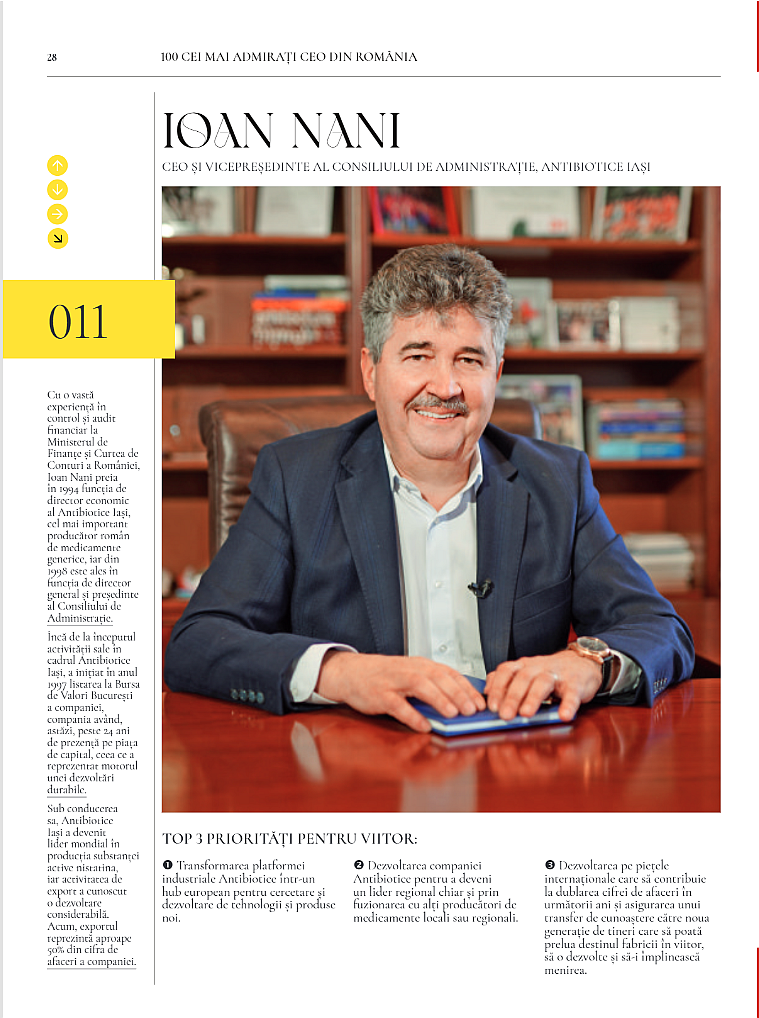 the top of the most appreciated directors of companies or entrepreneurs in the Romanian business environment.
General Manager of Antibiotice, ec. Ioan NANI, occupies the honorable 11th place in this ranking based on criteria related to the reputation that managers build, the evolution of the company, results, the degree of involvement in the community and in the business environment.
As each edition of the Catalog "100 Most Admired CEOs in Romania" represents a collection of models worth following, these models have transmitted their priorities for the future, so that a more optimistic image of tomorrow's economy can be projected.
Here are three priorities for the future, mentioned in the catalog by the General Manager of Antibiotice:
– Transforming the Antibiotic industrial platform into a European hub for research and development of new technologies and products;
– Development of the Antibiotic company to become a regional leader even by merging with other local or regional drug manufacturers;
– Development in international markets that will contribute to doubling the turnover in the coming years and ensuring a transfer of knowledge to the new generation of young people, who will be able to take over the destinies of the factory in the future, to develop it and fulfill its mission.
The top "100 Most Admired CEOs in Romania" reached its 12th edition in 2021 and was created by Business MAGAZIN with the support of undelucram.ro – the largest online community dedicated to employees in Romania.
The top can be consulted here: https://bit.ly/3pXmRjm.
See all news ▸