Antibiotice company at Pharma video-conferences
The role of the Romanian medicine industry in public health administration during this period.
Invited during the video conference "Health and Pharma – The medical reaction to the pandemic aggression", Ioan Nani, general manager of Antibiotice, spoke about how the Antibiotice company adapted and supported the national anti-COVID effort19.
Principles such as responsibility and solidarity were by far the main assets perceived in the midst of this special phenomenon that has been taking place in Romania and in the world for more than three months.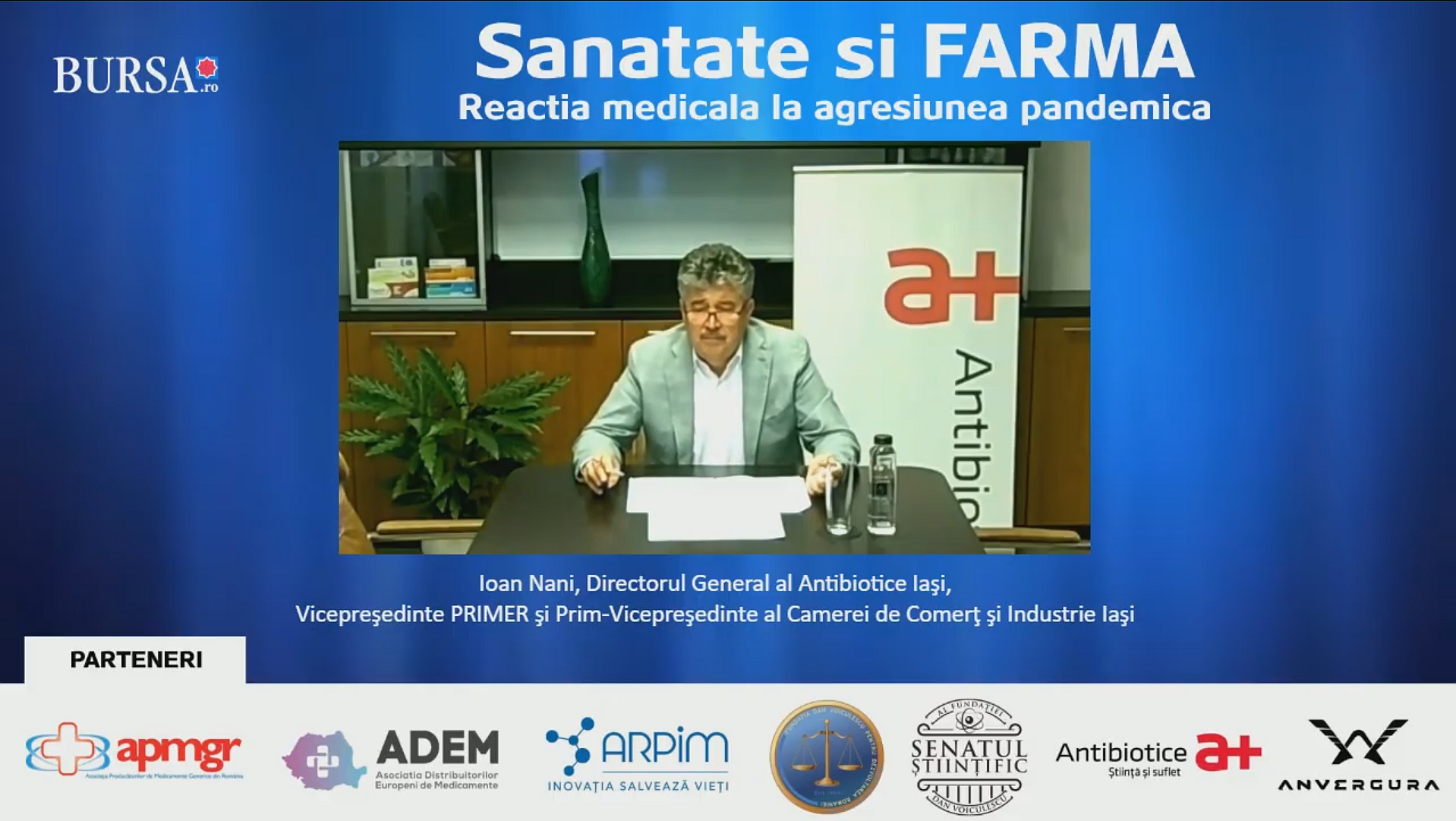 The development strategy of the pharma industry
It is absolutely mandatory that in the future development strategy of Romania, as an EU country, a development strategy of the local pharmaceutical industry be put in the foreground. The problem is today, for the first time since the end of the Second World War, that each country should be able to rely on its own resources in certain moments of crisis.
Antibiotice won the hearts of Romanians
At the beginning of the crisis, in March-April, Antibiotice successfully managed to supply all hospitals with associative drugs for the treatment of COVID-19 and with beta-lactam anti-infective drugs, cephalosporins and carbapenems, for patients with associated diseases.
We have restored the confidence of Romanians, managing to come in an extremely short time with some drugs present in the treatments of all WHO protocols. Within two weeks we produced them and sent them, through distributors, to all hospitals that treated patients with COVID 19
Adapting the company to the crisis situation
The pharmaceutical industry has adapted to the crisis situation as people around the world have adapted, imposing the most restrictive measures. Antibiotice focused primarily on protecting the company's employees. Without them, efforts to be useful would have been futile.
The fact that we work with safety stocks at 45, 90 days for certain drugs, was actually a saving measure.
The need for access to medicines
If we want to have a national health strategy in perspective, we will not be able to do without a developed local pharmaceutical industry. More attention should be paid to domestic industry through facilities provided to investors who have the power to develop more local production.
Proud of our purpose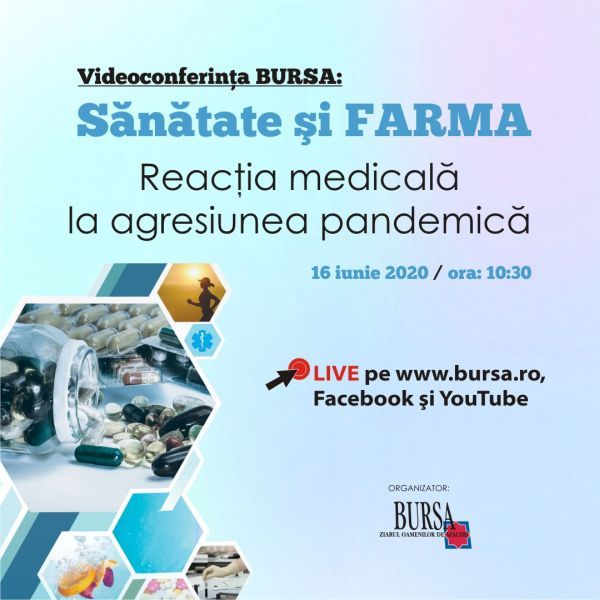 Antibiotice is a company that celebrates 65 years of tradition and continuity in Romania. We must all be proud that we always manage to make an important contribution to this public service activity, through our presence where it is needed.
In this regard, we informed, from the first two weeks of the emergency period, that we resumed production for Paracetamol and Novocalmin.
If we dare to look more closely at what we can do in this country, we will be able to be more present in the medical act and contribute to strengthening people's trust in the Romanian product. That is why we need clearer legislation on prices, and we can say that the clawback tax is an anti-social measure.
Collaboration with state authorities
We, at Antibiotice, have always found the necessary synergy to collaborate with the authorities, through domestic and international bodies, which participate in the concept of public health.
We have managed with great efforts, sometimes at the governmental level, to ensure that our presence is not interrupted in Southeast Asia, Vietnam, which received from us, in time, the drugs for associative treatment.
Our products export
During the last three months, the company honored all its orders in the country but also those from exports. Much of our products have gone to the UK, our main consumer of injectable anti-infective drugs, as has the United States. where the need was acute.
What's next
We expect that in the next period we will still need special attention related to living with this virus, to learn to live with it, to resume our peaceful activities, to return to society, to see our lives naturally. Because it will take some time to patent a vaccine and put it on the market.
I guarantee you that as long as there will be companies, companies, manufacturers in Romania such as Antibiotics, we still have a chance to believe in a National Health Strategy, concluded Ioan Nani, General Manager of Antibiotics in concluding his speech on video conference organized by the BURSA Press Group on 16.06.2020
#MadeInRomania #Antibiotice
Ziarul Financiar Made in Romania Conference – "Creating added value is essential"
The conference "The biggest players in the economy – made in ROMANIA" organized on Thursday, June 25 by Ziarul Financiar, was dedicated to leaders in the Romanian economy, companies with hundreds and thousands of employees, with foreign or Romanian capital, who support the business, regardless of the global economic context.
The general director of Antibiotice, Ioan NANI, invited in the segment reserved for the pharma industry, together with Bogdan Chirițoiu, the president of the Competition Council and Iulian Trandafir, the president of the Romanian Pharmaceutical Distributors and Retailers Association, spoke about the impact of this crisis period and how Romania can produce. more drugs locally.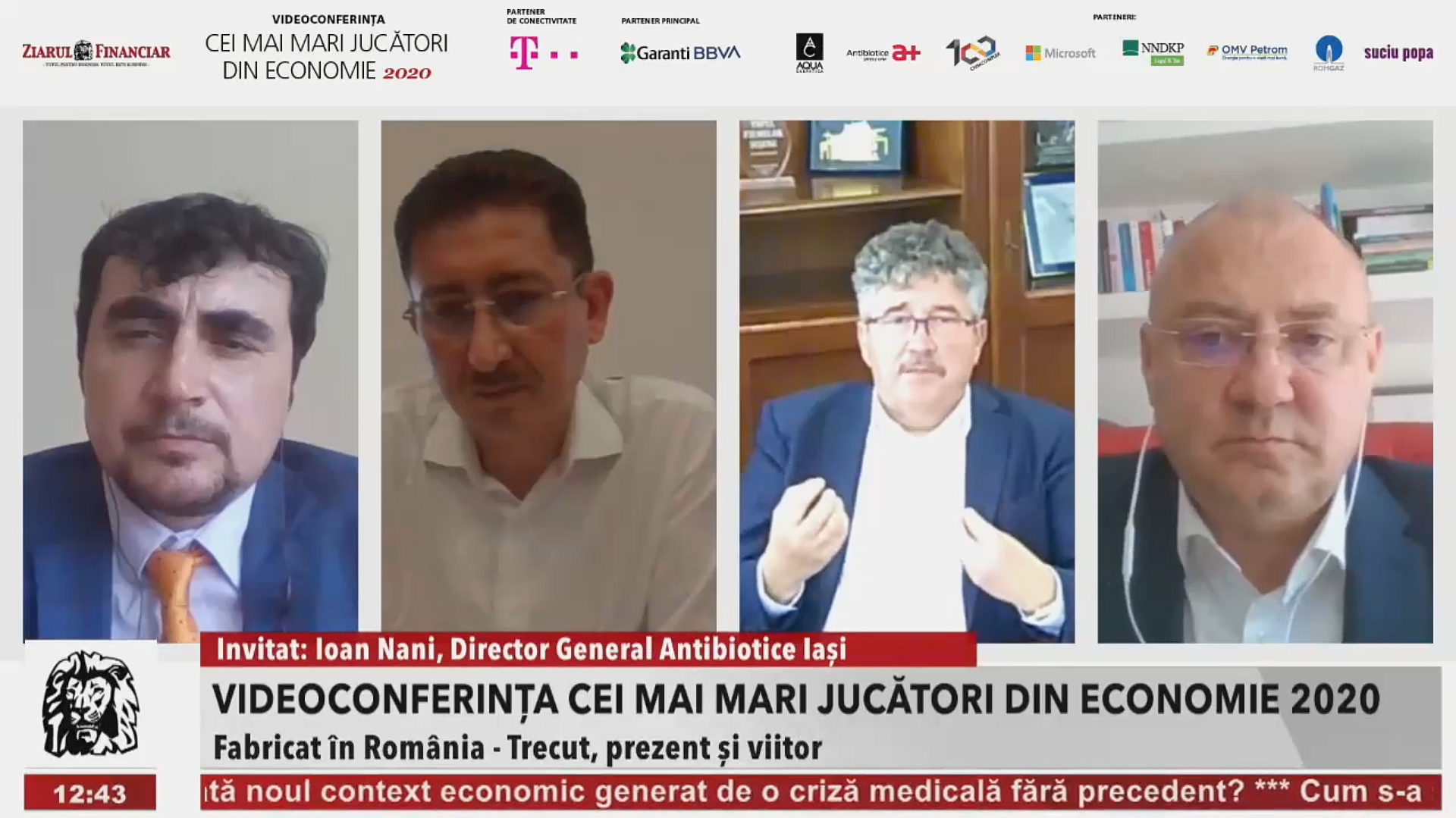 We were all surprised by the magnitude of the pandemic.
After an encouraging 1 semester, months of falling, waiting, measures to protect people and business followed. We are optimistic about the outlook, but we cannot isolate ourselves from the specific international context that the entire world economy is going through.
The courage to produce in Romania
The pharma industry produces only a small part of the needs of medicines for the population and the health system in our country, "Romania has a significant potential in the production of medicines, but we need an encouragement of local producers."
Of the 650-700 million boxes of medicines consumed in a year, just over 100 million are produced in Romania.
We must have the courage to produce in Romania, to encourage local entrepreneurs to make production.
The university system is a national good
Our current concern must be towards what Romania has as a confirmed good: a developed university system, a quality human resource and people capable of researching, innovating, developing product portfolios and then moving forward, to build industrial sites and thus develop the national economy.
The Romanian school of pharmacy has important resources and reserves that we now find we need to value.
The pharma industry is not a branch of the chemical industry
This has been considered for years in Romania. Globally, the pharma industry is a specific industry, ranking first in terms of the market, in terms of values ​​and players, and that is why it should be encouraged.
We have been leaders in sterile injectable powders for over 40 years
We need to identify the real potential of this industry in our country, to take advantage of the rapid possibilities to cover the deficiencies that have existed in the system related to adjuvant treatments.
Solidarity with the national anti-COVID effort19
We have made available our treatments associated with this disease (sterile injectable powders), generic drugs widely used around the world – carbapenems, penicillins, cephalosporins, where we are the national and regional leader for over 40 years.
Antibiotice also adapted its portfolio on oral medication, immediately after the announcement of the crisis of basic drugs through the manufacture of Paracetamol and Novocalmin, much sought after during this period.
National security policies
I don't think we need to become very nationalistic and stop pursuing regional, European, globalization policies. But I still believe that this crisis, which has just begun, will influence the activity in the future.
In the next period, we will have to reconsider some national policies, putting national security and safety policy first, focusing on development, traditional elements (their inventory), appropriate investment policies and the creation of a friendly legislative framework (without encouraging policies). competitive). Creating added value is essential and from here will come that difference to the gross national product which is now in deficit. Antibiotice is the only authentic Romanian manufacturer that now brings added value through its activity, starting with applied and innovative research and until the marketing of the finished product, boosting 8,000 pharmacies.
The big changes that need to take place must include
– thinking of a friendlier environment, national policies anchored to regional and European realities, Encouraging the banking system, Capital markets
Globalization replaced with individualism in the drug industry
In the shock immediately after the beginning of this pandemic, the individualism policy of each government in the protection of its own population was noticed. The reflex to protect yourself is greater than caring for others. Since the ban on the export of certain products, imports from certain territories have ceased. Then we had to evaluate what we have in order to more easily endure the initial disastrous effects of the crisis. After a month things settled down and little by little we came back.
Important long-term player
The realities that have sprung up in the history of the last 2-3 months have changed the production plans of many companies that now produce protective equipment such as face masks or gloves and which represent an extraordinary market. We, at Antibiotice, are a traditional consumer of these sanitary materials. We cannot work in production flows and protect people and products without wearing such equipment. Unfortunately, in the national economy we rarely found organized forms of suppliers to produce such sanitary equipment. From now on I'm sure we'll find it. Even we are analyzing the opportunity for new investments in this field and I am thinking about how to make masks immediately. Because we aim to remain an important player in the long run and the competitive aspects, productivity, modernism in production are very important.
The effects of globalization
Some effects were translated into Solidarity, in the role of IT in perspective, the change of attitude towards the workforce, modern solutions to work with people, the reorientation towards markets and products with potential.
The difference in the decrease in the clawback tax will be reinvested
We need to reach European legislation that regulates drug policy in the same way. You can't charge 60% of the reference product in Bucharest and get another percentage in Paris. For this reason, this parallel export was created because the products migrated from cheap markets to more expensive markets, which is natural. Insofar as we will have the same principle of regulating the price of a medicine, be it generic or innovative, both in Bucharest and in Paris, then things will get better.
Reducing the clawback tax from 25-28% in Q4 is an advantage. We have not felt it yet because it was covered by the crisis situation, but after this period we will feel it and the resulting difference will be invested. Antibiotice is a company that invests a large part of its profit every year in the development of the production sites it has.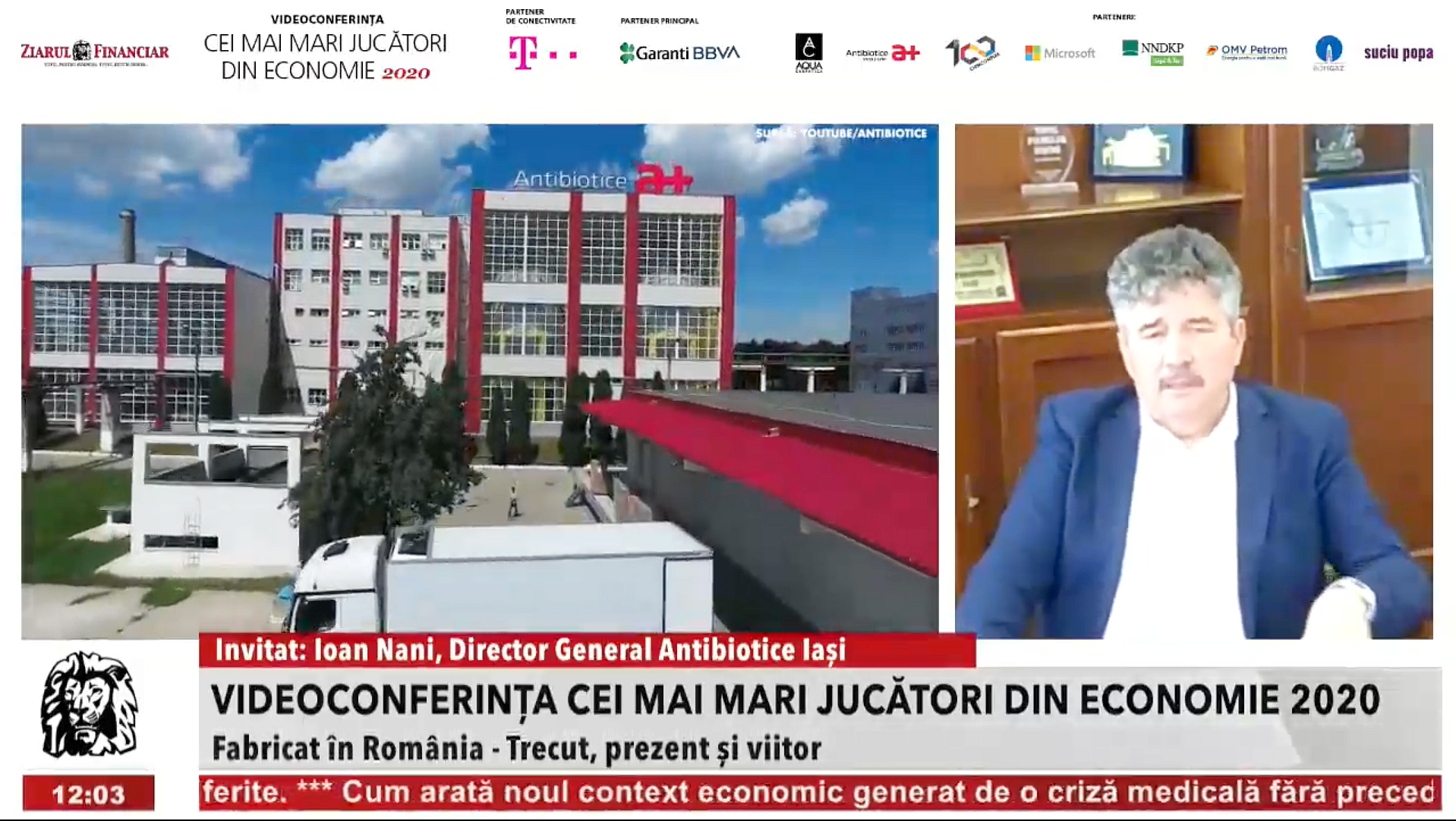 HUB PHARMA BUSINESS
The concept of Cheap Products makes you think of trivial products and thus you create a disadvantage to the one who produces them. Those who produce in Romania bring maximum added value, with multiple advantages for the economy. It is unnatural for him to have a cheap product. If the products here take 60% of the international price, it is clear that many products will come to Romania, because here they will be evaluated at low prices and continue to leave feeding the health systems in the West. That is why we need to find ways to make this an advantage for us. Romania has a workforce, it has intelligence, it has universities, so it has a great potential to develop production and added value here. Which is then exported to Western Europe. Let's also connect to modern forms of coexistence: In research, in clinical trials, in common economic models, in public health policies.
Romania can also be a business HUB for Southeast Asia, achieving added value here and exporting it to that region which now has extraordinary potential. I think that if we take advantage of this opportunity brought by the crisis.
Being profitable and safe costs money!
Unfortunately, the market in our country is the raw material for the pharmaceutical industry. Due to high production costs, large industrial processes have ceased in the economy, making Antibiotice the largest producer of active substances in Southeast Europe. before 1990. We were traditionally the world's third largest producer of penicillin and penicillin derivatives. In China and India, governments have made a national policy of being the largest producers.
Security costs! To be profitable and safe requires investment.
Increasing the individualism of states but will not deglobalize
We should encourage a concerted policy in Europe. Let's see who can make active substances, who makes finished products, who generics and who innovates. It is, after all, a security policy of this communion of European states. Regarding the policies of China and India and even the United States. The market will not deglobalize. It will tend, under the influence of the great centers of power, to maintain trends of globalization. What are the mechanisms by which the European Commission will have to implement them from now on in order to rethink zonal policies. Structural funds would be a viable solution.
We know that billions of euros have not been consumed in the last interval and from 2020 onwards these funds will be relocated, redirecting in Romania (?) To industrial policies, increasing competitiveness, to research and this would be extraordinary because Romania has the capacity to research.
Cantacuzino Institute
If we take the US as an example, the State Department has research policies at the Army level. There, tens of billions of dollars are invested in large research projects together with pharmaceutical companies, they obtain innovative products, which they use at first and then send them around the world. In 2009, when I said to set up the Romanian pharmaceutical company. For a year we were all delighted with CFR as we called it, after which the idea disappeared. In 2000, as president of the Romanian Businessmen Association, we discussed the concept made in Romania. Then came Romania's pre-accession and accession to the EU and we couldn't talk about manufacturing in Romania anymore. The industry is a creator of value, we must identify it to develop its potential to invest very orderly.
Products for type II diabetes and Eutyrox
Very recently I made the very important decision to return to all products for type II diabetes. He had antibiotics in his portfolio, but as a result of less fair price policies, they took them out of production 7-8 years ago. We now have them in the forefront of our Regulatory Affairs activities for submitting files to the NMA.
We are often asked why we do not produce Eutyrox. It is a hormone that should be used for a hormone deficiency in the body. The production of these hormones requires separate industrial sites only for this product. A site costs millions of euros. And I wonder: can I be number 1 or 2 to sell Eutyrox to recover the investment made? Otherwise, I will have to find a co-manufacturing partner with whom I would do it.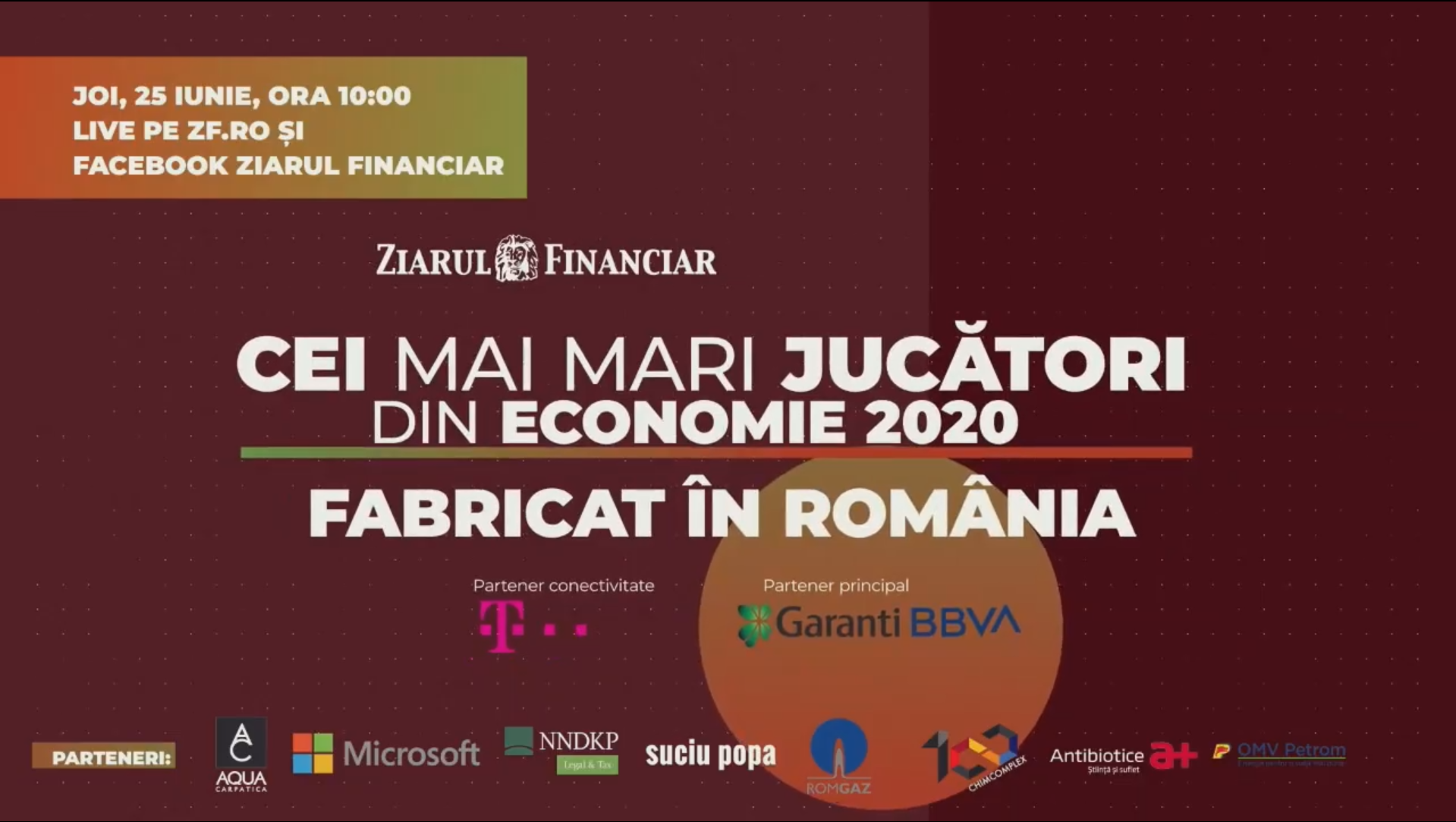 Internal partnerships with distributors
We started discussions on how we could connect with some international manufacturers to bring certain medicines to Romania and to produce them on our websites. It is an action that we must continue. It is impossible not to have a segment of products in Romania for national security. All major distribution companies have distribution chains and pharmacies and some have their own portfolios of pharmaceuticals. Very well. But could it not be produced in Romania? We are here, we have 20% reserves in capacities, we have an extraordinarily qualified workforce, the potential for immediate adaptation and we can do our own research. We produce hundreds of tons of active substance and give it all over the world. Why can't we harness this potential for production quality portfolios? Do you know how important it is for the Romanian to know that quality products are made in his country?
List of essential products
This list exists and now is an opportunity to adapt it. Antibiotice has 24 products on that list established by the WHO and adopted by the Romanian Ministry of Health and NAMMD. The period we are going through now shows us that we did not consider some of them to be essential, but now we will put them on this list. We cannot produce them all. But we can produce them in a broader, international, European policy. And I give the example of Remdesivir, a drug tested against coronavirs, which Americans now consider the best against COVID-19. He is in clinical trial in 5 centers in Romania. Drug production should follow an international policy to share this effort. We recently contacted Gilead for a possible collaboration on the drug Redemsivir, produced by the American giant and tested as a treatment for coronavirus. We spoke with the vice president of Gilead, of Romanian origin, for a possible collaboration between the two companies. Because they will not be able to produce billions of units of product needed for international treatment, we proposed to regulate a way of working between countries, territories. For example, Antibiotice, which has a component of the Ministry of Health, to produce it under the patent of that company, through a co-manufacturing contract for an approved space these drugs. It is a kind of policy to participate in this international effort to support a safe market "said Ioan Nani at the end of his speech at the Conference" The biggest players in the economy "organized by Ziarul Finanicar, on Thursday, June 26, 2020.
The recording of the segment reserved for the pharma industry, within the conference organized by Ziarul Financiar, can be viewed here https://bit.ly/3drhZsY
See all news ▸